Earl Edwards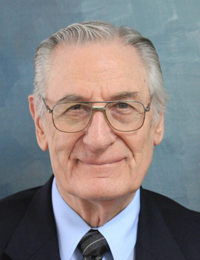 Dr. Earl D. Edwards has devoted a lifetime to serving the Lord in preaching, missions, and scholarship. He attended Central Christian College (now Oklahoma Christian University of Science and Arts), and he earned the B.A. degree in communications at David Lipscomb College. He received the M.Th. degree from Harding Graduate School, and he completed his D.Miss. at Trinity Evangelical Divinity School in Deerfield, Illinois.
Edwards began preaching in 1952 and has served as a minister in Kansas, Arkansas, Sicily, and Florence, Italy (1960-1976). He has written for Gospel Advocate, Spiritual Sword, and other periodicals and is the author of Protecting Our "Blind Side."
Edwards taught at Harding University as the visiting professor of missions from 1976 to 1977. In 1982, he began teaching Bible at Freed-Hardeman University, where he served as dean of the School of Biblical Studies from 1991 to 1993 and director of graduate studies in Bible from 1989 to 2008. He has been honored multiple times by Freed-Hardeman for his outstanding teaching. Oklahoma Christian named him the alumnus of the year for the College of Biblical Studies in 1998. In 2004, he was honoree of the Appreciation Dinner at the annual FHU lectureship.
Edwards was married to Gwendolyn Hall from 1953 until her death in 1986. Together they had two children, Terry and Karen, and eight grandchildren. Edwards remarried in 1988 to the former Lora Young.
1 & 2 Thessalonians Earl Edwards, D.Miss.
This volume explores Paul's message to the new believers at Thessalonica who needed encouragement in the face of persecution. It brings clarity to the apostle's instruction about the second coming of Christ, a teaching that is often misunderstood today. (364 pages)
$29.95