Jack McKinney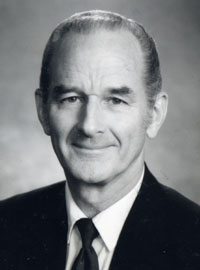 John (Jack) T. McKinney was born in Sweeny, Texas, in 1927. After graduating from high school (1944), he served in the Pacific in the US Navy during the final days of World War II. Following his tour of duty, Jack earned a bachelor's degree in German at Abilene Christian College in Abilene, Texas (1949). He studied German at the University of Heidelberg and also French in Paris.
After returning to the US, Jack worked with congregations in Austin and San Angelo, Texas, and was a teaching assistant in German at the University of Texas. He later taught both French and German at Abilene Christian College (1952–1955). He conducted mission work in Frankfurt and Chemnitz, Germany, and Zurich, Switzerland. Jack returned to Abilene Christian College, where he completed a master's degree in Greek (1966). During that period, he preached for the church of Christ in Trent, Texas. The family then returned to Zurich for mission work (1966–1974). Toward the end of that time, Jack also served as a Bible instructor at Pepperdine University in Heidelberg. For approximately the next twenty years, Jack taught Bible and Biblical Languages at Harding University in Searcy, Arkansas (1974–1992). He went on to be with the Lord in 2014, at the age of 86.
Jack and his wife, the former Joanne Wilkinson, were blessed with four children, eight grandchildren, and six great-grandchildren.
Galatians Jack McKinney, M.A.
Paul's letter to the Christians in Galatia was designed to protect the young churches from the teachers who wanted the Gentiles to be circumcised in order to be saved. Honoring this demand would destroy their faith in Christ as their only means of salvation. The true significance of the gospel message is emphasized in this epistle of Paul. In Christ, all are saved equally. As brothers and sisters, we are to worship and serve together, without regard for dividing lines such as ethnicity and economic status. Jack McKinney used his vast background in Greek to shape an extremely valuable commentary for Christians today. (452 pages)
$29.95