Recent Releases!
The Truth for Today
Commentary Series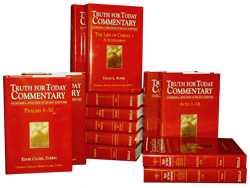 A complete exegesis and application of the Old and New Testament Scriptures by faithful scholars of the churches of Christ.
Scholars within the churches of Christ are producing a complete book-by-book commentary on the entire Bible. Each volume in this historic work provides remarks on the verses of the text covered, and chapters end with application sections which offer suggestions for developing sermons and Bible classes.
July Sale!
The Charles Hodge Bundle continues: 10 books for $20 plus shipping. If you order the bundle in July, you also get 10% off your purchase of
Leviticus
. Contact Anita at (501) 305-1472 to order before they are
gone
!